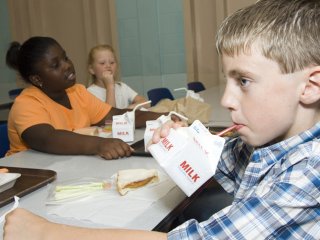 Description
Objectives
Outline
Materials
System Requirements
Watch a Demo
Our Health, Nutrition, and Safety of Children course explores the role of early childhood educators in fulfilling the nutrition, health and safety needs of young children in their care. This course identifies the professional standards of the field and discusses best practices for applying them in the early care setting.  Students will learn how to teach healthy practices and to promote the overall wellness of children. Our Health, Nutrition, and Safety of Children program is for anyone who works in a role that touches children's lives. The material is based on the most current research and reflects the latest developments in health, safety and nutrition as well as their application in multiple settings.
Prerequisite(s): None
After completing this course, you should be able to:
List the basics of infectious diseases and how they affect health
Identify the methods for maintaining a safe environment which reduces the risk of injury
Recall the procedures for assessing social and emotional development of children
Recognize the standards of nutrition and the process of planning healthy meals
Define the principles of integrating a healthy childhood lifestyle to achieve optimal growth and development
Child Health, Safety and Nutrition Module 1
Integration of Nutrition, Health and Safety
Child Development and Health
Relationships Between Nutrition, Health, and Safety
Creating a Foundation of Wellness in the Early Childhood Education Environment
Teachable Moments
A Systems Model for Nutrition, Health, and Safety
National Initiatives and Government Support
Integrating Wellness Across the Curriculum
Culturally Appropriate Practices
How Children Learn
Working with Parents
Child Health, Safety and Nutrition Module 2
Nutrition Basics
Introduction to Nutrition Basics
Comparison of Macronutrients
Nutrition Issues
Food Insecurity
Standards in Nutrition
Guiding Healthy Eating
Feeding Infants and Toddlers
Feeding Timeline
Feeding Preschoolers and School-Age Children
Nutritional Needs
Child Health, Safety and Nutrition Module 3
Food Safety
Foodborne Illness
Foodborne Outbreak
Hazard Recognition
Microorganisms that Can Contaminate Food
Regulations and Guidelines
Federal, State, and County Regulations
Contamination Control
Food Purchasing, Receiving, and Storage Contamination Issues and Control
Food Safety Education for Children
Feeding and Food Safety
Child Health, Safety and Nutrition Module 4
Menu Planning
Program Goals for Healthy Living
The Dietary Guidelines
Requirements of Menu Planning
Nutrient Requirements for a Child Care Food Program
Resources for Menu Planning
Budgeting for Menus
Including Families and Foods from Home
Health in Action
Special Diets
Cultural Preferences
Child Health, Safety and Nutrition Module 5
Promotion of Health and Wellness
Health Promotion and Wellness in Early Childhood Settings
Early Childhood Educators' Roles in Promoting Health and Wellness
Promoting Mental Health
Policies for Health Promotion in Early Education Settings
Coordinated School Health
Standards in Physical Activity
Preventing Childhood Obesity
Resources for Health Promotion and Physical Activity
Appropriate Time Spent with Physical Play Activities
Family Involvement
Child Health, Safety and Nutrition Module 6
Managing Infectious Diseases
Understanding Illness and Infection
Disease and the Immune System
Childhood Communicable Diseases
Common Communicable Diseases of the Skin
Infectious Disease Prevention
Health Promotion
The Role of the Child Care Center
Preventing Foodborne Illness
First Aid Training
Levels of Care
Child Health, Safety and Nutrition Module 7
Assessing Health
Introduction to Assessing Health
Health Appraisal Through Observation
Early Detection of Atypical Sensory Conditions
Speech/Language Development
Assessment of Speech/Language Impairments
Oral Health
Nutritional Health
Social Health
Emotional Health
Attachment Security
Child Health, Safety and Nutrition Module 8
Safety and the Physical Environment
Creation of Safe Physical Spaces
Components of a Healthy School Environment
Indoor Air Pollutants
Improving Indoor Air Quality
Water Pollution
Outdoor Air Pollutants
Play Spaces and Environments
Safety and Security
Injuries and Emergencies
Implications for Educators
Child Health, Safety and Nutrition Module 9
Promoting Positive Social and Emotional Development
The Foundations of Social-Emotional Development
The Importance of Relationships and Interactions
Promoting Positive Behaviors in Young Children
What are Challenging Behaviors
Providing Disciplinary Guidance
Age-Appropriate Discipline Techniques
Partnering with Families
Making Referrals to Mental Health Professionals
Early Childhood Health Consultations and Intervention
Using Professional Collaborators
 
**Outlines are subject to change, as courses and materials are updated.**
Ed4Career is committed to being both environmentally conscious and making it easier for you to study! We're making your education mobile! All of our textbooks are now provided as eTextbooks. You can access them on your laptop, tablet, or mobile device and can study anytime, anywhere.
The move away from physical books to eTextbooks means you get the latest, most up-to-date version available. This also makes your training more accessible, so you can study anywhere you have your phone or tablet. The best part is that all materials are included in your training cost so there are NO extra fees for books!
Internet Connection
Broadband or High-Speed - DSL, Cable, and Wireless Connections
*Dial-Up internet connections will result in a diminished online experience. Classroom pages may load slowly and viewing large audio and video files may not be possible.
Hardware Requirements
Processor - 2GHz Processor or Higher
Memory - 1 GB RAM Minimum Recommended
PC Software Requirements
Operating Systems - Windows 7 or higher
Microsoft Office 2013 or higher. Also, you could use a general Word Processing application to save and open Microsoft Office formats (.doc, .docx, .xls, .xlsx, .ppt, .pptx)
Internet Browsers - Google Chrome is highly recommended


Cookies MUST be enabled
Pop-ups MUST be allowed (Pop-up Blocker disabled)

The Kindle Reader App or VitalSource Bookshelf App are needed for many of our courses (No special equipment needed. This can be downloaded for FREE onto your computer.)
PowerPoint Viewer (if you do not have PowerPoint)
QuickTime, Windows Media Player &/or Real Player
MAC Software Requirements
Operating Systems - Mac OS x 10 or higher with Windows
Mac office programs or a Word Processing application to save and open Microsoft Office formats (.doc, .docx, .xls, .xlsx, .ppt, .pptx)
Internet Browsers- Google Chrome is highly recommended


Cookies MUST be enabled
Pop-ups MUST be allowed (Pop-up Blocker disabled)

The Kindle Reader App or VitalSource Bookshelf App are needed for many of our courses (No special equipment needed. This can be downloaded for FREE onto your computer.)
PowerPoint Viewer (if you do not have PowerPoint)
Adobe PDF Reader
Apple QuickTime Media Player