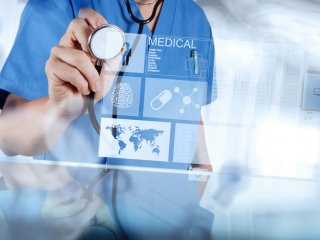 Description
Objectives
Outline
Materials
Certification
System Requirements
Watch a Demo
Our Health Information Technology (HIT) course provides strategies and concepts related to the comprehensive management of health information. Students will learn how to organize and secure health information to improve the quality, safety, and efficiency of the health care delivery system. With an overview of the health care industry and strategies for recording and securing patient processing records, this course equips the learner with tools and techniques for improving the health care system by effectively managing health care data.
 Recomendation(s): CompTIA A+ or 500 hours of hands-on IT technical experience in the healthcare IT field.
After completing this course, you should be able to:
Recall the basic structure and terminology of health care information
Identify steps for implementing electronic health records
Recognize steps for managing health records and the clinical flow of data
List the basics of medical coding and the reimbursement process
Identify methods for securing health information and remaining compliant
Health Information Technology Module 1   
Health Care Data
Health Care Delivery Systems
Health Care Professionals
Comparison of Facilities
Legal and Regulatory Environment
Collecting Health Care Data
Basic Concepts
Key Data Categories
Medical Decision Making
Describing Data
Data Elements in Health Record
Data Quality
Data Sets
Health Information Technology Module 2     
Health Information Management Processing
Electronic Health Records
Government and Private Sector Intervention
Implementing an EHR
Acute Care Records
Clinical Flow of Data
Clinical Data
Discharge Data Set
Data Quality
Postdischarge Processing
Electronic Health Record Management
Other Health Information Management Roles
Health Information Technology Module 3    
Coding and Reimbursement
Code Sets
ICD-9-CM
ICD-10-CM
ICD-10-PCS
HCPCS/CPT-4
Special Purpose Code Sets
Uses for Coded Clinical Data
Paying for Health Care
Types of Reimbursement
Reimbursement Methodologies
Billing
Patient Financial Services
Health Information Technology Module 4     
Managing Health Records
Ambulatory Care
Other Inpatient Health Care Settings
Long-Term Care
Behavioral Health Facilities
Home Health Care
Master Patient Index
Identification of Physical Files
Legal Systems
Chart Locator Systems
Information Systems
Security of Health Information
Record Retention
Health Information Technology Module 5   
Statistics
Organized Collection of Data
Data Retrieval
Presentation
Routine Institutional Statistics
Reporting of Data
Statistical Analysis of Patient Information
Uses of Health Information
Quality of Health Care
Monitoring Quality of Health Information
Organization and Presentation of Data
Health Care Facility Committees
Health Information in Quality Activities
Health Information Technology Module 6   
Legal and Supervisory Issues
Confidentiality
HIPAA
Access
Consent
Release of Information
Preparing a Record for Release
Internal Requests for Information
Sensitive Records
Federal, Corporate, and Facility Compliance
HIM Department Management
HIM Department Workflow
Evaluating Department Operations
**Outlines are subject to change, as courses and materials are updated.**
Ed4Career is committed to being both environmentally conscious and making it easier for you to study! We're making your education mobile! All of our textbooks are now provided as eTextbooks. You can access them on your laptop, tablet, or mobile device and can study anytime, anywhere.
The move away from physical books to eTextbooks means you get the latest, most up-to-date version available. This also makes your training more accessible, so you can study anywhere you have your phone or tablet. The best part is that all materials are included in your training cost so there are NO extra fees for books!
Upon successful completion of this course, student will be prepared to sit for the Certified Associate in Healthcare Information & Management Systems (CAHIMS) national certification exam.
Internet Connection
Broadband or High-Speed - DSL, Cable, and Wireless Connections
*Dial-Up internet connections will result in a diminished online experience. Classroom pages may load slowly and viewing large audio and video files may not be possible.
Hardware Requirements
Processor - 2GHz Processor or Higher
Memory - 1 GB RAM Minimum Recommended
PC Software Requirements
Operating Systems - Windows 7 or higher
Microsoft Office 2013 or higher. Also, you could use a general Word Processing application to save and open Microsoft Office formats (.doc, .docx, .xls, .xlsx, .ppt, .pptx)
Internet Browsers - Google Chrome is highly recommended


Cookies MUST be enabled
Pop-ups MUST be allowed (Pop-up Blocker disabled)

The Kindle Reader App or VitalSource Bookshelf App are needed for many of our courses (No special equipment needed. This can be downloaded for FREE onto your computer.)
PowerPoint Viewer (if you do not have PowerPoint)
QuickTime, Windows Media Player &/or Real Player
MAC Software Requirements
Operating Systems - Mac OS x 10 or higher with Windows
Mac office programs or a Word Processing application to save and open Microsoft Office formats (.doc, .docx, .xls, .xlsx, .ppt, .pptx)
Internet Browsers- Google Chrome is highly recommended


Cookies MUST be enabled
Pop-ups MUST be allowed (Pop-up Blocker disabled)

The Kindle Reader App or VitalSource Bookshelf App are needed for many of our courses (No special equipment needed. This can be downloaded for FREE onto your computer.)
PowerPoint Viewer (if you do not have PowerPoint)
Adobe PDF Reader
Apple QuickTime Media Player